Collaborative Robots – Pick and Place with Vision Tracking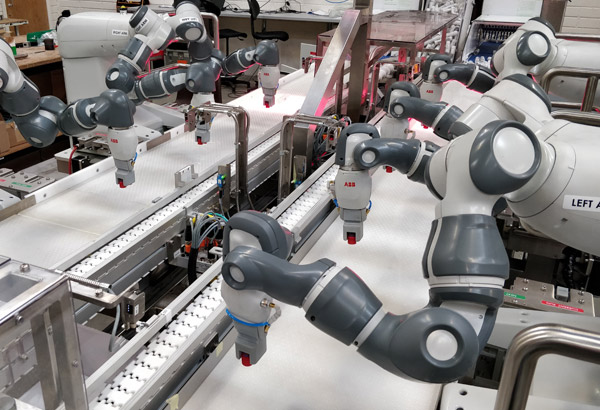 Client Name

Procter & Gamble (P&G)

Application

Tracking, surface detection and bottle sorting

Product

A variety of cream and fragrance bottles

Project Outcome

A fully automated system to sort bottles using the latest in automation technology
Business Challenge
Exploring the Parameters of Intelligent Automated Systems
The customers in this case requested a solution to automate the bottle sorting section of their production line. The line involved a number of variations in bottle sizes and shapes. This Robotics and Drives original design involves the integration of 4 collaborative ABB robots (4 x 2 Arms), in a pick and place sorting system. The system also includes 3D vision and tracking.
Approach
Research is Key
Bottles/bins are fed into the system staggered along a conveyor belt at each side as shown. The objective of the robot cell is to identify the bottles/bins, track them along the conveyor, pick them using a vacuum gripper, and place them upright into pucks that flow along a puck conveyor in the centre.
The 3D vision system in this cell allows us to track the bottles/bins and also identify a pick surface. The robots are fitted with vacuum grippers to pick the bottles and it is important that a suitable surface can be recognised to do so.
The demand for high production rates is the reason for the quantity of robots in the system. These Robots work alongside each other independently, but are all in communication with the 6 vision cameras on the line.
Our approach to the bottle variations was to design and implement an automated End of Arm Tooling (EOAT) changing program. Located at each robot arm is a tool change station, and when this program is run in the cell the robot is capable of dismounting the current EOAT and mounting the new automatically.
Result
A Breakthrough in Vision Picking Systems
This bespoke concept can be altered and adapted to suit applications in the industrial world that involve this type of technology.
After research and development, unique innovation and a specialised approach, this complex pick and place sorting project is a major achievement in the world of industrial automation.