Box Sorting and Palletising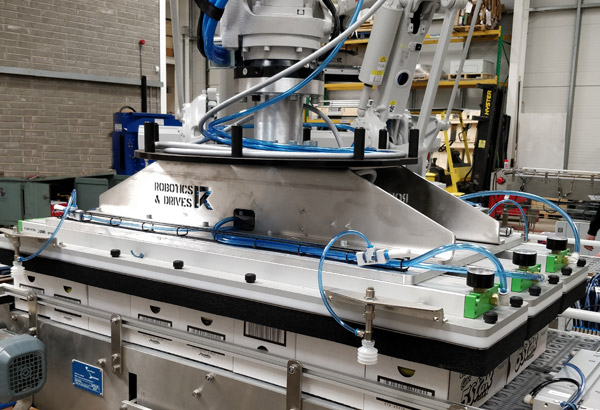 Client Name

Mondelez

Application

Box sorting & palletising

Product

Boxed chocolate bars

Project Outcome

To successfully automate the palletising of boxed product and implement conveyor technology to enhance production and minimize equipment
Business Challenge
A Call for Innovation
The aim of this project was to implement new technologies to better the efficiency and simplify the palletising process of boxed product. One challenge we overcame in this project was to achieve the end goal but still minimise the quantity of equipment usually necessary to accomplish the task.
Approach
Implementation of Future Technologies
Included in this system is state of the art conveyor technology, pallet zones, an ABB IRB 660 robot with plinth, and vacuum gripper technology.
Our approach to this project demand was to use intelligent conveyor belt technology to eliminate the need for side rails, pushers and other extra equipment.
The conveyors used in this palletising line are Activated Roller Belt Conveyors. This one design can provide functions such as Diverting, Rotating and Single Filling.
The belt brings the boxes along the narrow section of the conveyor, when it reaches the next section, the technology sorts the boxes into a designated position by diverting them to one side. This organises them into a pattern for the robot to pick. This involves the wheels in the belt being driven and as a result pulls the load in the direction of the wheels.
The robot then uses a vacuum gripper to pick all the boxes in the pick position and place them on the pallet.
Result
Lower Maintenance Requirements
As a result of fewer side rails, pushers etc., there is a significant change in the necessity for maintenance within this bespoke cell.
There can be a number of pallet zones in the system to prevent as much down time as possible. This is achieved as the robot is able to continue palletising at one pallet zone while the other is being unloaded.